Senior Mobility Scooters Explained
Sunday, February 28th, 2010 at 11:52 am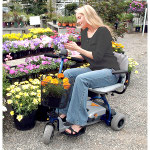 Wheelchairs are a powerful asset to those who are unable or have difficulty walking, but for seniors who are able to walk for short periods of time, the mobility scooter is often a better choice. Mobility scooters are similar to wheelchairs in functionality, but use a different design and typically cost less than an electric wheelchair.
Mobility scooters, which are often called adult scooters, have a much longer base that an electric wheelchair does. The base, which is made out of molded plastic, has one set of wheels in the front and another in the back, although many are three wheeled, so only have one wheel in front. The user sits in a chair that is positioned more towards the rear of the scooter and a tiller, which is similar to a set of handlebars, extends from the front of the scooter and is used to control it.
The tiller usually allows the scooter to not only be turned, but also contain a key locking mechanism, speed controls, and is used to control any other accessories, such as horns and lighting. Many also come with a basket that is attached to the front of the scooter, although even those that do not can be fitted with an aftermarket basket.
Mobility scooters utilize rechargeable batteries, which mean unlike gasoline scooters, a mobility scooter can be used indoors and outdoors. The per-charge range varies by model, with most allowing for at least a 4 mile per-charge range.
Travel scooters, which are designed to be very lightweight, can be taken apart into several pieces, with the heaviest piece usually not weighing over 30 pounds. This way, the scooter can be taken apart and placed in the rear of a vehicle, without having to use a scooter carrier or lift. Of course, to reduce weight many of the comfort features are removed and travel scooters usually have a lower weight capacity and per charge range.
Heavy duty scooters, on the other hand, are almost the complete opposite of a travel scooter. They are designed with performance in mind and have a much higher weight capacity and can often travel over 20 miles on a single charge. With larger tires and higher ground clearance, as well as reinforced bumpers, heavyduty scooters are also have much better performance outdoors and across rugged terrain. However, since they are so much larger in size, it is necessary to use a vehicle scooter lift to transport them. Even though they, like most mobility scooters, can be disassembled into several pieces, the individual pieces are much heavier than those of travel scooters.
The Adult Scooter is often a lower cost alternative to the electric wheelchair. However, due to its design, a mobility scooter can not be driven directly up to a table or desk in the same way a wheelchair can. As a result, most people who use mobility scooters can walk for short periods of time. There are many wheelchair users though that invest in a heavy duty scooter for outdoor use, as they can be driven almost anywhere.