What Are Heavy Duty Mobility Scooters?
Monday, January 11th, 2010 at 11:22 am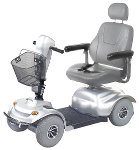 Mobility Scooters are often used by seniors and are electric scooters designed to help make it easier to get around. Using rechargeable batteries, these adult scooters can be driven indoors and outdoors, making life easier for who are able to walk, but only with difficulty. There are many types of mobility scooters, but one of the most powerful and fun to drive types is the Heavy Duty Mobility Scooter.
As the name implies, a Heavy Duty Mobility Scooter is very rugged, has a heavier weight capacity, and can be driven in areas where other types of mobility scooters could not. They have larger wheels and often reinforced shocks, making them well suited for off road terrain. It is also common for heavy duty mobility scooters to have reinforced bumpers, to protect against impacts and things like brush, which might be experienced when driving the scooter outdoors.
Pneumatic Tires are also almost always used, which means the tires are filled with air instead of being a solid piece of rubber. This helps to improve traction, making the scooters preform better on loosely packed dirt or other outdoor terrain.
Most Heavy Duty Scooters use a four wheel design, as this provides the most stability, but some three wheeled heavy duty scooters are available. The Three Wheel Models will have a better turning radius, at the expense of reduced stability.
To give you an idea of the difference in weight capacity between a regular mobility scooter and a heavy duty mobility scooter, most regular adult scooters support between 250 and 300 pounds. A heavy duty scooter, on the other hand, will usually support between 400 and 500 pounds.
Not only are heavy duty scooters able to support more weight than other electric scooters, they also have a significantly higher top speed and battery life. For example, it is common for a heavy duty scooter to travel more than 25 miles on a single charge at speeds over 5 mph. This is opposed to most traditional electric scooters, which have a range of around 10 miles or less.
Heavy Duty Electric Scooters also have a number of extra features to make them more comfortable, such as improved seats with head support and even sometimes carpeting on the base of the scooter.
Disadvantages of Heavy Duty Mobility Scooters
One thing to keep in mind is that Heavy Duty Mobility Scooters are usually the most expensive type of mobility scooter. They usually start at around $2500 and can exceed $5000, depending on the model and features.
Also, since heavy duty mobility scooters are so much larger and heavier they are not as easy to transport. Most of those who purchase a heavy duty mobility scooter invest in a scooter lift for their vehicle, which makes it easier to transport.
Heavy Duty Scooters also are not as maneuverable as other smaller electric scooters, so will not always be the best choice for use indoors.
Popular Heavy Duty Mobility Scooter Manufacturers and Models
Pride Mobility, Golden Technologies, and ShopRider all offer at least one Heavy Duty Mobility Scooter.
There are several different models of heavy duty scooters, but the ShopRider Xl4 Deluxe(#889XLSBN,) Golden Avenger(#GC-541,) and Pride Hurricane(#PMV5001) are some of the more popular models of heavy duty scooters.