Vertical Platform Lifts vs Wheelchair Ramps
Tuesday, July 21st, 2009 at 4:25 pm
For those that use wheelchairs, the stairs can present an obstacle that is very difficult to overcome. In some cases, it is possible to simply avoid traveling in areas that have stairs. However, around the home simply avoiding the stairs is typically neither practical or possible. There are several options to help make a homes staircase more accessible, but most people either install a vertical platform lift or a wheelchair ramp. Both of these options have their own advantages and disadvantages, which should be carefully weighed when making a home accessible.
Vertical Platform Lifts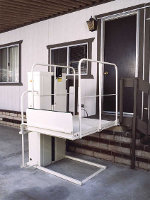 Vertical platform lifts are one of the most efficient ways of allowing a wheelchair user to travel over the stairs. Vertical platform lifts, which are often referred to as wheelchair lifts, are basically like a self contained elevator. The lifting platform, motor, and elevator shaft are all contained in a single unit, which can be placed next to a staircase to improve accessibility. The lifting height varies by model, but most have a default lifting height of around four feet, which can then be upgraded to about twelve feet.
Vertical platform lifts are plugged into a normal electrical outlet and provide a platform for the user to drive their wheelchair onto. Then, the platform can be raised and lowered to allow full access to the home. Some wheelchair lifts include locking gates, both on the lifting platform itself, as well as at the top of the staircase landing to increase safety. Locks are also available, which may be required for commercial wheelchair lifts.
Usually the weight capacity of a vertical platform lift is at least 500 pounds, although some can support more than this. It is possible for more than one person to use the wheelchair lift at once, providing this does not exceed the weight capacity. They can also be used to move boxes or other items up and down the stairs.
Vertical platform lifts require a strong base that can support the weight of the lift, as well as the weight of the people using it. The base can be made from concrete or wood, providing it is sufficient to support the weight and stable.
The cost of a vertical platform lift varies, but usually they cost between $3,500 and $11,000. The installation of a vertical platform lift is straightforward and not very difficult, but the unit itself can be very heavy, so getting it in place may be difficult for some.
Wheelchair Ramps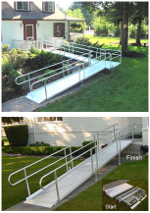 Installing a wheelchair ramp will often be a lower cost alternative to a wheelchair lift. Ramps can be custom made out of wood or metal ramp kits can be bought and assembled. The metal ramp kits typically come in sections, which are assembled at the home, and are referred to as modular wheelchair ramps. The height of the staircase will determine how many sections are needed. In some cases, modular wheelchair ramp kits can prove to be just as expensive as a wheelchair lift.
Wheelchair ramps offer the advantage of not requiring any electricity to function and since there are no moving parts, there is little about the ramp that can break. However, wheelchair ramps can take up a lot of space in a persons yard and the higher the staircase, the more space they will take up. Using a ramp can also prove to be very strenuous for those who use a manual wheelchair.
When choosing between a wheelchair ramp and a vertical platform lift, it is important to consider the location where the accessibility aid will be installed, as well as the condition of the person who will be using the device. However, for small staircases, which consist of only a step or two, there are a number of threshold ramps available that will be much more practical than a wheelchair lift would be.