Vertical Platform Lifts and Wheelchair Ramps
Thursday, September 24th, 2009 at 10:03 am
There are usually some areas with limited wheelchair accessibility that wheelchair users must face when away from home, but there is no reason that any area in your own home should not be wheelchair accessible. Yet, for many this is something that must be faced, with narrow doorways often being a problem.
Another, perhaps even more important obstacle, is the front staircases that adorns most homes. For many wheelchair users, the first step in making their home more wheelchair friendly is to find a way to easily use the front porch.
There are two ways that the front porch is usually made wheelchair accessible, namely by installing a wheelchair ramp or a wheelchair lift.
Wheelchair Ramps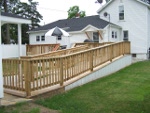 Wheelchair ramps are very common and are often built out of wood by the homeowner. There are a number of free wheelchair ramp plans, which can provide an easy way to increase accessibility. Going the wooden wheelchair ramp route is often the least expensive option and allows the homeowner to custom fit the wheelchair ramp to their yard.
Another option is to use a prefabricated modular wheelchair ramp system. These systems are made out of metal and come in short sections, which are then securely bolted together. The height of the staircase, as well as how many bends are needed in the ramp, determine how many sections are needed. Many people prefer the shiny metal look of modular wheelchair ramps, which are also more weather resistant than wooden wheelchair ramps. However, they are a great deal more expensive than building your own wooden wheelchair ramp.
One disadvantage of using a wheelchair ramp is that they can take up a great deal of space in the yard. This depends on how high the front porch is, with a higher front porch requiring a longer wheelchair ramp. In areas where there is a very small front yard, this might mean that most of the space will be taken up by the wheelchair ramp.
Vertical Platform Lifts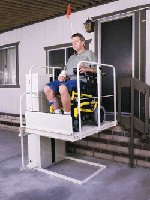 Wheelchair lifts provide a much more low profile solution and are basically mini-elevators. The technical name for a wheelchair lift is a vertical platform lift, which describes how these devices work. The wheelchair lift is placed next to the landing of the front porch, with a platform rising vertically from the ground to the front porch.
While vertical platform lifts are similar in concept to an elevator, the entire unit is self-contained, so with the exception of providing a sturdy base for the lift, there is little modification to the structure of the home. The base can be made of wood or concrete, with proper drainage being very important. When considering the placement of the wheelchair lift, it is important to take into account how water drains off the roof, because you do not want it draining directly onto the lift, even though wheelchair lifts are weather resistant.
The main advantage of a vertical platform lift, other than the small amount of space it takes up, is that it provides a virtually effortless means of entering the house. The user need only drive their wheelchair onto the platform and push a button, with the lift doing the rest of the work.
From a cost perspective, vertical platform lifts do usually cost considerably more than wooden wheelchair ramps. However, with the high price of modular metal wheelchair ramps, there is not always as large of a price difference between wheelchair lifts and metal wheelchair ramps.