The Different Types of Mobility Scooters
Monday, July 20th, 2009 at 9:39 am
For seniors and others who have difficulty walking around, the mobility scooter has been a powerful asset for some time. The first mobility scooters where developed about fifty years ago, but they really did not become practical or popular until the 1980′s.
Today, there are a number of different kinds of mobility scooters available, but they can basically be broken down into three distinct categories: Travel Scooters, Heavy Duty Scooters, and Traditional Scooters. Knowing the difference between these types of mobility scooters is very important, because they each offer their own advantages and disadvantages.
Travel Scooters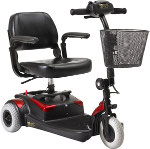 Travel scooters are very popular, because they are lightweight and can be easily disassembled into several easy to manage pieces. Usually, the heaviest piece will weigh less than 30 pounds, so they can be easily picked up and placed in the trunk of a car, stored on a plane, or even placed into the backseat of a vehicle. Many travel scooter are also very easy to take apart and feature clasps that can be operated while only using a single hand. Since these types of scooters can be so easily transported, they can make them a great tool for going to an amusement park or visiting a new city.
While travel scooters can be very easy to transport, their lightweight comes at the cost of reduced functionality and stability. They are often not able to support as much weight, nor will a travel scooter fair as well over rougher terrain. Also, travel scooters are basically stripped of all extra features, to help reduce weight, including having a reduced per-charge range.
Travel Scooters Typically Cost: $800 – $1500
Heavy Duty Scooters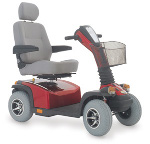 Heavy Duty Scooters are pretty much the exact opposite of travel scooters. A heavy duty scooter offers superior weight capacity and off road maneuverability. They feature reinforced frames and often include special bumpers for added protection. Larger off-road tires and improved ground clearance make heavy duty scooters able to be driven pretty much anywhere. These mobility vehicles also include a number of other features designed to improve comfort and usability, such as overstuffed captains chairs and upgraded suspension.
While heavy duty scooters are an excellent tool for those who need a higher weight capacity or want a scooter that can be driven off-road with confidence, they are fairly large in size. They also have a larger turning radius, so when combined with their large size, heavy duty mobility scooters might take up too much space to be used effectively inside of a home. Also, due to their size, a vehicle scooter carrier is required to transport them. Like other types of mobility scooters, a heavy duty scooter can be disassembled, however the individual pieces are much heavier, sometimes weighing over 100 pounds. It is also not as easy to disassemble as a travel scooter would be.
Heavy Duty Scooters Usually Cost: $1500 – $5000
Traditional Scooters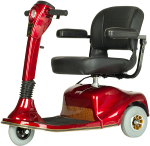 Traditional scooters fall in between heavy duty scooters and travel scooters. They preform well inside of a home and can also be used over most outdoor surfaces, providing the surface is fairly well packed. They include a number of features, such as running lights, and typically have a per-charge range of around 8 – 10 miles. Traditional scooters provide a great deal more stability than a travel scooter and typically support more weight as well.
While traditional scooters are very sturdy, they are not as well suited for rougher outdoor terrain or wet ground. These types of scooters can be taken apart as well, but the individual pieces are not as lightweight as a travel scooter, nor is a traditional scooter as easy to take apart. In most cases, a vehicle scooter carrier is required to transport these devices, as they take up much more space and are a good deal heavier than travel scooters.
Traditional Scooters Typically Cost: $1300 – $2500