Mobility Scooters and Transportation Options
Tuesday, April 24th, 2012 at 9:25 am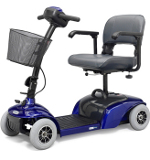 The mobility scooter is a popular type of medical equipment, which offers a similar sort of functionality to an electric wheelchair. These devices have been around since the sixties, although they didn't really become well known until the nineties. During this time, several popular manufacturers, like Hoveround, Golden Technologies, and Pride Mobility, all began manufacturing electric scooters in earnest and their popularity grew.
The main difference between an electric mobility scooter and an electric wheelchair is their intended use. An electric scooter is designed as a secondary mobility vehicle, primarily with the intention of making it easier for seniors, and others, to move across longer distances. This makes them popular for use at the shopping mall or grocery store, as well as parks and other public places where one might do a good deal of walking. Electric wheelchairs on the other hand, or for that matter wheelchairs in general, are typically designed as a primary mobility vehicle, so are often used for all types of accessibility.
As a result of the difference in the way this type of medical equipment is intended to be used, the design is a little different from that of a wheelchair. Electric scooters are designed to make it easy to get off and on the device throughout the day, with a larger base and swiveling chair. Most also have a control system that extends out from the front of the chair, on a pivoting arm. This way, the controls, which at minimum usually include acceleration, braking, and steering, can be moved closer to the user when driving, while swinging up and out of the way when entering or exiting the vehicle.
Transporting Mobility Scooters
Since many people use their scooters away from home, being able to travel with them is often important. Most scooters, even the very large heavy duty types, which can support over 400 pounds, are designed to be taken apart in a few sections. This makes them easier to manage and allows them to be stored in the trunk of a car.
However, depending on the size of the scooter, this can still leave the user with a very heavy base, which is far too heavy for the average senior to lift, so many people use vehicle scooter lifts. These lifts make it easier to transport a scooter within a car or SUV and there are a few different designs.
One of the most common is the hitch mounted scooter carrier, which installs quickly and easily onto the hitch of a truck, van, suv, or larger car. Then, the scooter can either be lifted with an electric platform or driven onto a ramp, to place it on the scooter carrier. These are popular because they can be installed in minutes and don't generally require any sort of vehicle modification. However, the downside to these types of scooter carriers is that the scooter is stored outside of the vehicle, so it is exposed to the weather and road-hazards.
For larger vehicles, like some SUVs and vans, internal scooter lifts are available, which typically work by lifting the scooter from the side or rear of the car, into the vehicle cabin. These offer more protection and convenience, although because of the amount of space they take up inside the vehicle, as well as the necessary vehicle modifications to install them, they do have a few drawbacks.
Another option is to use a crane lift, which is popular for those who transport their scooter in the trunk of a passenger car, although they can be used with any type of vehicle. The crane lift essentially operates similar to a crane you would use in construction, with a pivoting arm and extending cable that gets attached to the scooter, in turn lifting it. For those who want to use this type of scooter lift in the car, the scooter will usually need to be dissembled first, and there will be some bending still as the lifting rope gets attached to the scooter.
Travel scooters are also available, which offer a more lightweight design and are made so that when they have been taken apart, none of the pieces are overly heavy. This can make moving them a bit easier, but they are not typically as sturdy as other types of scooters, nor can they travel as far on a single charge, as they are designed with weight in mind.