Selecting the Right Wheelchair
Thursday, July 2nd, 2009 at 8:16 am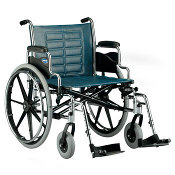 There are a number of decisions that go into prescribing a manual wheelchair and this decision should not be made lightly. This is because a wheelchair will be used daily and an improper fit could result in joint deformities, bruising, poor posture, circulation problems, and even pain. However, these problems can be avoided by ensuring that the wheelchair fits the user.
Size of the User
One of the most important considerations is the age of the wheelchair user, their size, and their weight. Wheelchairs come in a variety of sizes and so, it is seldom a problem finding one to fit an individual.
However, it is imperative that the seat is wide enough to accommodate their frame, the armrests do not rub their arms or cause discomfort, the backrest is not too high or too low, and the wheelchair can support the weight of the occupant. The height of the occupant is also important, so the wheelchair is not raised too high or low off of the ground.
Health and Condition of the User
The physical health and type of disability the new wheelchair user has is also a very important part of deciding what type of wheelchair will be the best choice. Since manual wheelchairs require good deal of upper body strength to use, they will not be the best choice for some, necessitating an electric power chair. Other considerations are the users ability to support their neck, how much flexibility they have in their legs, and circulation concerns, which could require the user to keep their feet elevated or have a reclining back.
Needs of the User
While the physical condition and attributes of the wheelchair user are essential, it is also imperative that the wheelchair can do what the user needs it to, so the needs and preferences of the wheelchair user should always be considered. For example, it should be determined if the user will be using the wheelchair only at home, at work, primarily outdoors, or a combination of all three. Other considerations include whether someone else will be pushing the wheelchair, how easy the wheelchair is to transport, and how the individual will transfer into and out of the chair.
Cost of the Wheelchair
Typically, the final consideration before actually ordering the wheelchair is the overall cost and purchasing power of the user. The order should be fine tuned to remove any unneeded features, which can add to the cost. The option to lease, buy, or rent should also be considered, as well as insurance or Medicare costs.
Ensuring that the wheelchair fits the specific needs and requirements of its user is imperative, not only for safety and health concerns, but also because the acceptance of a wheelchair by its user can affect their mental health.