A Brief Look At The Three Types of Mobility Scooters
Saturday, June 19th, 2010 at 7:58 am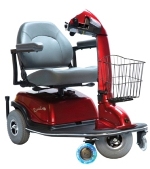 While seniors are not the only group of people to use mobility scooters, they are much more common among the elderly and are a powerful tool for patients who are only partially ambulatory. Mobility scooters are designed to provide supplemental walking assistance to the mobility challenged, safely transporting their rider over both indoor and outdoor terrain.
Mobility scooters, which are also called electric scooters or adult scooters, have been around for about fifty years, but did not really start to gain popularity until the 1980′s. Since then, names like the Rascal have become household names and many people take advantage of this powerful type of home medical equipment.
There are many brands of mobility scooters and several distinct categories. Understanding how these different types of mobility scooters work and how they are classified can make buying a mobility scooter much easier, as well as helping to narrow down the available choices.
Travel Scooters
Travel Scooters are often the least expensive type of mobility scooter and are designed to be taken apart into several managable pieces. Many include special clips that allow the scooter to be broken down quickly, often with only one hand. When dissasembled, the indivudal pieces of the travel scooter are lightweight and easy to move, with the heaviest piece often weighing less than 30 pounds.
Being able to take the scooter apart makes it much easier to transport, as it can be placed in the trunk of a car, rather than requiring a special scooter lift be installed on the vehicle.
While travel scooters can be a great choice in some cases, they usually lack a lot of the features other mobility scooters have. This is because in order to reduce weight, pretty much anything not related to safety or required for functionality is removed. As a result, travel scooters usually support less weight, have a shorter per-charge range, and are not quite as durable as other mobility scooters.
For everyday use, a travel scooter is often not the best choice, but they can make it much easier and less expensive to transport the device.
Traditional Mobility Scooters
Traditional Mobility Scooters are usually designed to be broken down in a manner similar to that of a travel scooter, but the individual pieces are not quite as lightweight or easy to manage. However, traditional scooter have many other features, both safety related, such as improved suspension, lighting systems, and larger weight capacities, as well as comfort related.
Typically a vehicle scooter lift is required to transport the mobility scooter, which has a significantly higher range than travel scooters.
Heavy Duty Mobility Scooters
Heavy Duty Mobility Scooters, as the name implies, are the Mack Truck of mobility scooters. They are much larger than other types of mobility scooters, making them more difficult to transport, but have a much higher weight rating and are designed to preform well across all types of terrain, including off-road.
They feature larger wheels, a higher ground clearance, reinforced bumpers, and many other features designed to make the device as rugged as possible. Heavy Duty Electric Scooters also have a larger per-charge range and can support a much higher weight capacity than other mobility scooters, as well as having many creature comforts, like a large comfortable captains chair.
Mobility scooters, while excellent for outdoor use, do tend to be pretty large, so they are not always the best choice for tight quarters in a home. Like other types of mobility scooters, most heavy duty mobility scooters can be broken down into several pieces, but it is not uncommon for the lightest piece to be over 100 pounds. So, it is usually not practical to break them down for transportation, at least not for daily transport.